Effectively maintain your horses with the best fence for equine.
Hobbyists, showmen, rodeo competitors, farmers, and ranchers have one thing in common — they love their horses. Whether you own one or two or too many to count, quality horse fencing is essential for protecting these intelligent, athletic animals. While it is hard to peg a horse's exact physical abilities — mainly due to a wide range of breeds and their capabilities — most can pull their weight many times over, run at high speeds, and push with great force, too. With that in mind, a superior horse fence is necessary for safe containment.
Let's begin by reviewing a few common types of horse fences seen across Texas ranches.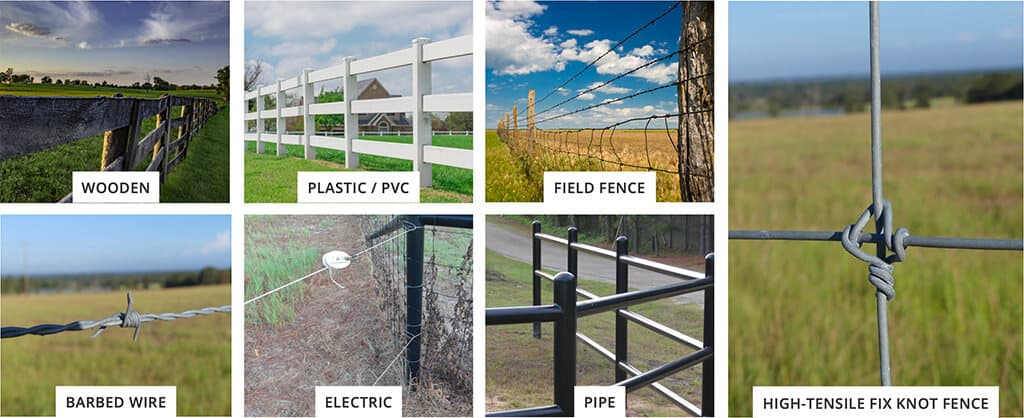 There are many different fencing options available. Many use wood fencing, but wood requires maintenance. PVC and other plastics do the job but lack strength. Some use field fences but have a low breaking strength and a significant risk of entanglement. Barbed wire is an option for cattle but an accident waiting to happen for horses. Electric alone can work but isn't as good for containment and longevity. Pipe fences and pipe and cable are great options but expensive.
There is one fence; however, that has proven to be the best value winner! This next-generation horse fence solution for ranchers and property owners has been used for more than ten years. High-tensile, fixed-knot horse fences are excellent for equine containment and outperform all other types of fencing in every application.
Let's dive a little deeper and discuss what precisely high-tensile, fixed-knot is, its cost, performance, materials, benefits, specifications, and additional horse fence add-ons.
High-Tensile, Fixed-knot Mesh Horse Fencing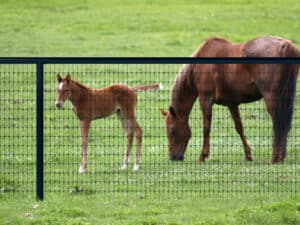 One thing is clear — there is a cost-effective type of fencing that reigns supreme, high-tensile, fixed-knot mesh contains horses safely, exceeds the reliability of other options, and is a great value. It consists of a series of interconnected vertical and horizontal wires that form squares/rectangles of overlapping and knotted wires. Made to last, it is ideal for paddocks, pastures, and other areas of interest. With a wide variety of fixed-knot fence patterns, there's a mesh for every purpose. Specific wire mesh patterns are suitable for stalls, runways, holding pens, handling areas, and tight corridors. It's more secure than traditional livestock fences, provides more safety for animals, lowers susceptibility to damage, and offers the most bang for your buck.
Overview of Advantages:
This fence solution isn't one-size-fits-all. A range of fence heights, mesh patterns, and steel tube framing options are available.
The fixed-knot design is adept at preventing horses from putting body parts through the fence.
The fence is highly visible for fast-running horses, reducing accidental impacts.
A massive differentiator is its ability to keep unwanted animals out.
Heavy-duty Class 3 galvanized wire contributes to longevity and durability and can last 3x longer than traditional low-tensile fencing material.
This type of fencing offers the highest strength to cost ratio.
Vertical stay wires on 6-inch or tighter centers give the fence high resistance to penetration.
Posts can be spaced up to 20 feet apart for greater economy while still retaining strength.
Construction stays tight with less than 1% elongation over the service life of the fence.
Deep crimping creates a memory for optimal flexibility to absorb impact and climate change.
Properly installed, the high-tensile wire fencing does not sag as other fence materials may.
High-tensile, fixed-knot horse fencing is essentially maintenance-free.
A 20-year manufacturer's warranty protects the investment.
High-Tensile, Fixed-knot Performance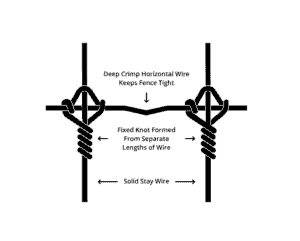 A fixed-knot design combined with high-tensile wire makes this the strongest woven-wire fence available. It is highly resistant to animal damage. In fact, the breaking strength of each 12-gauge horizontal wire is around 1,380 lbs.
Crimps manufactured in the horizontal wires are installed with significant tension, resisting force in a spring-like fashion. Fixed knots do not move or loosen under pressure from animals. Wild hogs and other predators can't "wallow" holes in the fence fabric as they can in traditional low-tensile field fence wire. Additionally, the steel mesh spacing enables the fence to withstand animal stresses without losing shape or strength.
Class 3 galvanized, high-tensile fixed-knot fences require very little maintenance, so landowners spend less time worrying about the integrity and durability of the fence. And in coastal and other environments where salty sea breezes can increase corrosion, these fence meshes are available with a Class 40 Zinc-Aluminum coating. This zinc-aluminum coating provides the highest degree of protection available for high-tensile steel mesh.
When selecting high-tensile, fixed-knot wire mesh for horse fences, the four factors that make a performance difference are:
Fixed-knot design – Fixed-knot wires are wrapped around the line and stay wires for superior vertical strength, allowing increased post spacing and excellent resistance to animal impact. The fixed-knot union holds tight under pressure, resisting movement and keeping its form to maintain its ability to do its job.
High-Tensile Wire – Professional grade 12.5-gauge high tensile wire is 175% or 2.75X stronger than traditional low-carbon, 12.5-gauge field fence, providing a breaking strength of 1,380 lbs. vs. 500 lbs. per single wire.
Coating Type – Minimum ASTM Class 3 galvanized coating has three times more galvanization than the typical Class 1 product used on field fences. Using fixed-knot mesh for horses creates a much longer-lasting fence that performs for up to three times longer.
Mesh spacing –Fixed-knot, high-tensile mesh designs are available in 3- to 12-inch vertical stay wire spacing with 3-inch minimum and 5-inch maximum horizontal wires in the two bottom courses.
Specifications of the Best Fence for Horses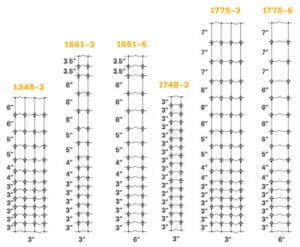 This section simplifies the selection of high-tensile, fixed-knot fencing options. Typically, a fence project may require several patterns based on application. For high-traffic areas, such as corrals, turnouts, or lanes, use tighter mesh patterns. With low-pressure areas, such as perimeters or cross-fences, use wider patterns. Select the best patterns for your use.
1661-3
This is best suited for holding pens, runways, and stalls. Its 3-inch horizontal spacing is durable and holds its shape. Extreme pressure is common in these tight corridors, which demands increased durability.
1661-6
The next fence pattern option is optimized for pastures, perimeter fences, and low-pressure areas. Its 6-inch horizontal spacing is economical and resists downward pressure, which is necessary when horses "neck" over the fence.
1775-3
Those looking to fence handling areas, holding pens, stalls, and other crowded areas might also consider this option. It is durable, tall, highly resistant to pressure, and offers small, 3-inch horizontal spacing to help prevent hooves from going through the fence.
1775-6
Another suitable product, which is great for pastures, exterior areas, and cross-fences. It is durable, and its height discourages horses from necking down, which is common with non-electric fences. It has a 6-inch horizontal spacing.
1348-3
This is suitable for stalls, holding pens, and runways. It's a shorter fence but has a 3-inch horizontal spacing. This product offers incredible strength and great longevity.
1748-3
The final option is also perfect for stalls, holding pens, and runways. It's shorter than the first four fencing options, but it stands strong and stands on a 3-inch-by-3-inch mesh spacing.
Overall, the selection of the best fence for horses comes down to an equation of value. If you want a quality fence that will hold horses safely, stand the test of time, look good on your ranch, and is extremely cost-effective, install high-tensile, fixed-knot mesh horse fencing on your property.
The Best Overall Value
Performance:
The superior strength of fixed-knot is less likely to buckle under pressure. Its deep crimping essentially creates flexibility and muscle memory for your fence, absorbing impacts and resuming its original position.
Each pattern variety is built with high-tensile steel mesh and incorporates deep crimps in horizontal wires to keep fences tight. Each option is stronger and more durable compared to low-tensile horse fences, including hinge-joint mesh. Fixed knots are formed from separate lengths of wire, and each vertical and horizontal stay wire is a solid, continuous, high-tensile strand.
Additionally, this option can be used with rail fences, is fast to build, and uses fewer posts.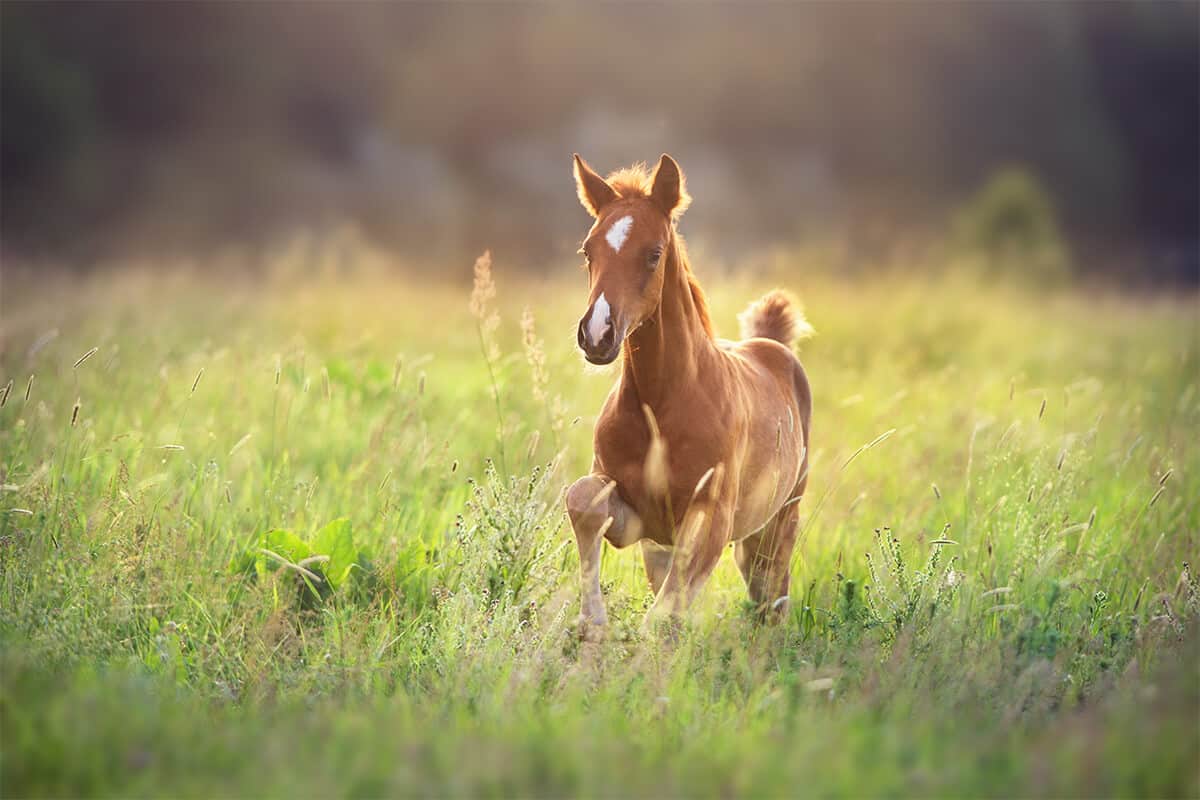 Maintenance:
Based on the high-tensile wire, fixed-knot construction, and Class 3 galvanization, this fence requires minimal maintenance. The combination of high tensile and the strength of the fixed knot make this fence virtually impervious to damage by wild or domestic animals. With proper installation, good maintenance consists of keeping vegetation from growing on the fence where it is not desirable and checking periodically for damage from falling trees. That's it. Virtually a maintenance-free fence, this option provides less work for equine owners. This frees up more of your time. That's worth a lot.
Longevity:
High-tensile fencing is resistant to rust and corrosion. Class 3 galvanized material lasts three to four times longer than traditional, class 1 horse fencing. It also holds its shape, given that the fence fabric gives with pressure and won't stretch out of shape, offering less than 1% of elongation throughout the service life. For the longest-lasting steel mesh, a zinc-aluminum coating is also available, which is highly resistant to cracking, flaking, splitting, etc.
With a wide range of height and mesh pattern options, fixed-knot mesh fencing is versatile and can be easily customized to fit the individual needs of the rancher. With the benefits of higher performance and excellent longevity, the net cost per year to install this fence makes it the best value to own.
Cost:
The selection of the best fence for horses on a ranch often comes down to a value equation. High-tensile, fixed-knot Class 3 fences provide significant value. Over the long term, these superior fencing materials cost significantly less to install and maintain than wood, plastic, field fence, Class 1 barbed wire fences, electric, and pipe. The initial cost to install fixed-knot fencing is virtually the same as barbed wire because of the 20-foot post spacing, which requires fewer intermediate posts and no fence stays or stiffeners. Also, this fence material comes in rolls of 330 or 660 feet, which facilitates installing long runs versus installing wires individually. After installation, the fixed-knot fence requires little to no maintenance, which translates into significant savings of time and money. With a service life of two to three times that of typical low-carbon barbed wire and hinged-joint fencing, a high-tensile, fixed-knot fence is a no-brainer!
To sum up cost, while other fencing options might seem suitable options, the fixed-knot mesh is the highest value option. The overall value of your investment is higher with this option than many competing routes on the market. It's important to balance reliability, service life, and value, translating to fewer repairs and long-term expenses, including maintenance and replacement costs. Over the long term, it's a more cost-effective option than barbed wire, wood plank, mesh wire, or pipe and cable.
**UPDATE – based on market changes in supply and materials available due to COVID, fence material prices have changed. Please call Tejas for the latest prices.
Gates for Horse Fences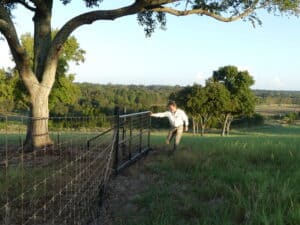 Oftentimes, the weakest link in a fence isn't in the fence itself. It's the gate. All too often, gates are left open or improperly closed, and horses walk out the way they came in.
With horse fencing, it's important to understand the need for a more complex latching system. We've all heard the stories of horses breaking into the feed room. Once a horse or pony learns how to do such a thing, all bets are off. These animals are intelligent, and if a small kid can open the gate, chances are good a horse can, too.
It's also good to avoid hazardous gate options or supplements, such as cattle guards. These are inadvisable, as they can easily break legs. This is especially true if a horse becomes excited or frightened and doesn't see it in time. Plus, horses are frequently led in and out of pastures and other enclosures. For that reason alone, this type of gate system is a terrible decision for any property with horses.
Corner Posts, Support Posts, and Steel Piping for Horse Fencing
There are numerous ways to improve the strength of a fence. Some people reinforce with wood or some use other options. But the optimal way is by using steel corner posts, support posts, and steel piping. A fence framework built on high-strength steel tubing offers a rating of 50,000 PSI, and up to 45% greater strength than typically-used tubing. Plus, while many frameworks are merely painted, the proper corrosion-resistant coating can add 25-30% to the life of the fence. That's why galvanized material is the premiere option, and it translates to increased reliability and long service life.
Those who wish to add steel piping to their mesh fencing will enjoy increased safety and stability. This is a safer option for horses, and let's be honest, it looks better, too. It'll add some flash to your fence.
Fence bracing material is also part of the equation. As mentioned, galvanized pipe is the most reliable bracing material. This can be used to build H-brace corners, pull posts, line posts, dead man braces, and more. For example, the typical H-brace is a 3-inch galvanized post driven 5-7 feet into the ground. These only strengthen your horse fence.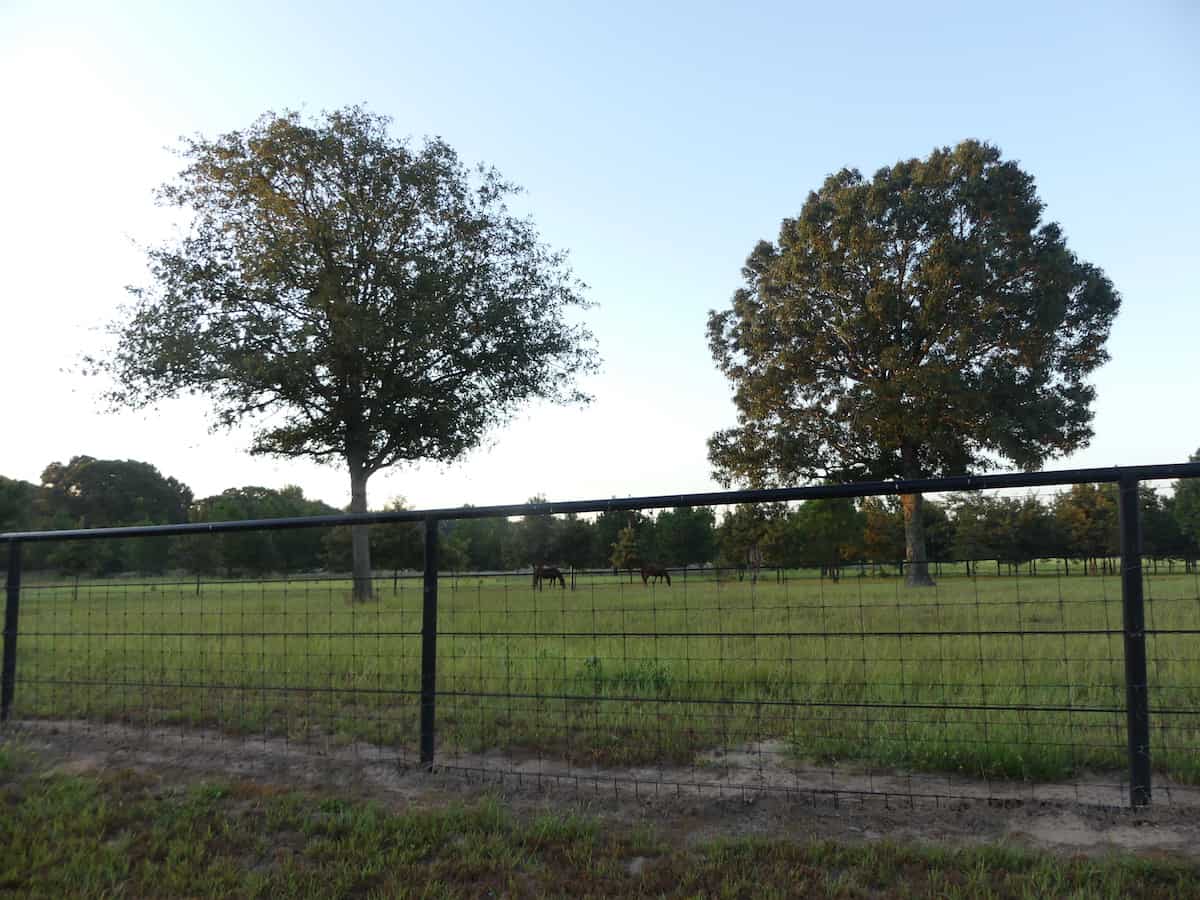 Water Gaps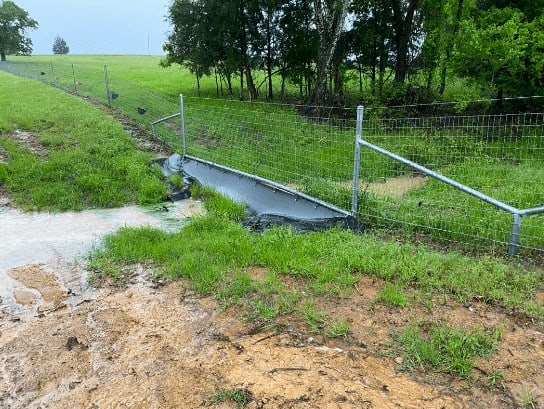 Most farms, ranches, and other fenced properties have varying topography, and some of them can be difficult to fence, especially with sharp degrees of change over relatively short distances. This is especially common with waterways. Historically, this terrain feature posed a problem for landowners and led to many different do-it-yourself, semi-effective solutions.
In retrospect, many farmers, ranchers, and landowners have attempted to merely place fencing across water gaps, but you can't successfully place fencing material across a channel. Debris can and will get caught up in it, and might even push over your fence, no matter how strong or well-built it is.
Other half-hearted solutions, such as hanging rocks, tires, or other barriers will weigh down your fence. Plus, these do little to prevent passage — by livestock going out or predators coming in — during low water levels and dry conditions. Some might not be pleased with the aesthetics, either.
Because of that, you must have a way to release the debris that is attempting to push through. Commercial products have attempted to solve this problem, and while some have curtailed challenges, Tejas now has an effective solution for this continuing issue. The FloatMaster Water Gap System solves challenges in a big way. It was developed by a Tejas team member and is exclusively available from Tejas.
This fencing practice and the product is ideal for creeks, ditches, drainages, draws, ravines, streams, and other low-lying areas. It has a cable system that forms a hinge-joint, which connects the FloatMaster to the fence system above it. Then, when the water comes through, it rises and falls with the water level. When water levels and debris subside, it settles back down, effectively preventing horses from passing under the fence.
While other water gap options aren't flexible enough to accommodate rising tides and oncoming debris, this one certainly is, and it diminishes clogging. It performs proficiently under receding water levels, normal water levels, and even dry conditions. When it isn't engaged, the FloatMaster resumes its resting position, creating a nice barrier and seal on the ground floor.
For those who are still hesitant, don't be among the crowd that overlooks ground gaps. This helps prevent horses from escaping enclosures by way of low points. It also helps prevent unwanted wildlife, such as predators, from entering the property. Protecting your investments is critical. Thousands of these are already deployed and are working quite well for those who have installed them. These are made to withstand the elements and will certainly last. Because of that, Tejas backs this product with a 10-year limited warranty, effectively standing behind its offering.
Add-On Options for the Best Fence for Equine
Predator-Control Barriers – Predator-control barriers can be added to customized fence solutions for almost any environment or need. Predator-control options consist of a steel mesh apron fence at the base of the fixed-knot fence to eliminate digging, tunneling, and wallowing; or electric wire barriers at the base and/or center and top of the fence.
Electric fences – Electrifying an outrigger wire on a high-tensile wire mesh fence adds a belt-and-suspenders approach to exclude feral hogs and deter coyotes. An electric fence wire outside of the fence at approximately 6 inches above the ground can prevent dogs and coyotes from digging under a fence and has been shown to considerably reduce breaches.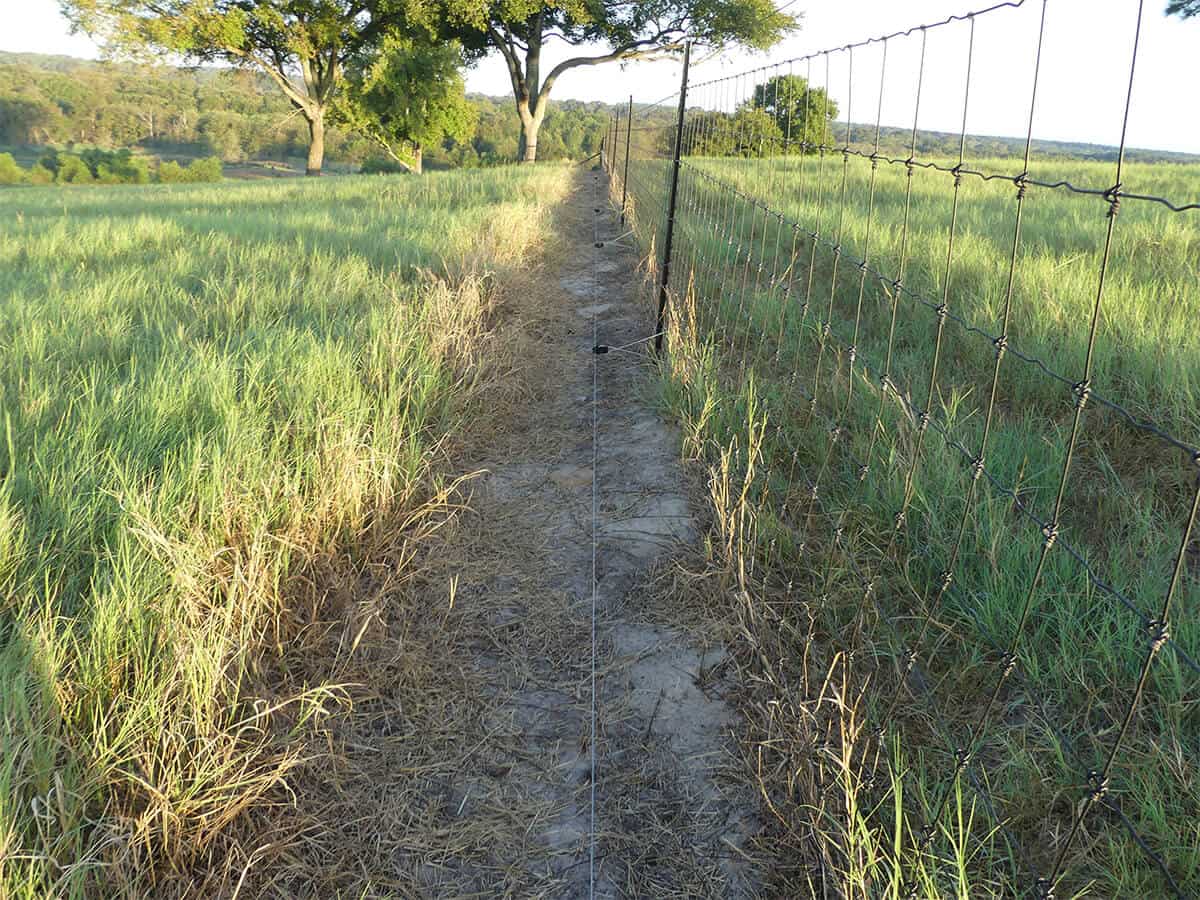 What is the Best Fence for Horses?
Fixed-knot, high-tensile wire mesh fencing material is extremely strong, long-lasting, and most importantly, one of the safest horse fencing options available. By combining this fencing material with galvanized pipe posts and rails, you are creating a safe and value-driven solution for managing your horses.
Why Choose Tejas?
There are common references for the strength of an ox, meanness of a bull, and stubbornness of a mule. There aren't any references relating to the cunningness and strength of a horse, though, there should be. They're extremely intelligent, very tough, and good at finding weak spots in fencing. Tejas builds a horse fence that is just as smart and tough!
Tejas Ranch & Game Fence offers a premier service installing superior fencing solutions. With a vision to help farmers and ranchers make positive impacts, Tejas has done just that for more than two decades. Its team of skilled experts are fencing innovators and create products that you'll be proud to have on your farm or ranch. You can trust Tejas horse fencing. The high-tensile steel mesh is designed for longevity, performance, security, and more.
Built upon a strong reputation, you know what you're getting with Tejas. It stands behind its products and services and offers warranties that beat the market. No matter the use case, the fencing solution it provides is built to last with minimal maintenance and repairs. The same holds true for its horse fencing.
At the end of the day, it's about results. Tejas is the industry standard, and both excellence and professionalism are key to its everyday operations. Tejas assures competitive prices, detailed bids, good communication, intuitive designs, and quality construction. And even after the fence is installed, Tejas is still there for you. So, don't hesitate. Call Tejas today.