How to Effectively Protect Your Land with the Best Wild Hog Fence
The problem: Significant property damage caused by wild hogs
The solution: Control access with high-tensile fixed-knot steel mesh fencing
This article answers a question we hear almost daily: How do I keep wild hogs off my property?  These animals that roam a growing percentage of U.S. lands are smart and voracious. They are a combination of feral and wild swine. We will give you details for the best wild hog fence.
WHAT ARE THESE DESTRUCTIVE ANIMALS?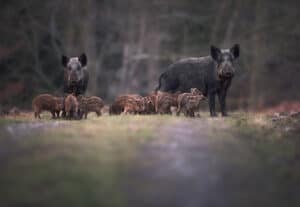 The terms "wild" and "feral" are used interchangeably when discussing feral hogs, though technically, "feral" refers to animals that were once domesticated while "wild" animals are those with no domesticated lineage. Likewise, these creatures are called hogs, pigs, or boars, with boars referring to both males and females. Sows begin breeding at 6 to 8 months of age and have two litters of four to eight piglets—a dozen is not unheard of—every 12 to 15 months during a life span of 4 to 8 years. Even porcine populations reduced by 70 percent return to full strength within two or three years.
Wild hogs are a significant threat to property throughout much of the United States. Estimates put the number of hogs at 6 million in the 35 states where they're known to live, with 2.6 million wild hogs in Texas alone. Wild hogs are "opportunistic omnivores," meaning they'll eat most anything. Using their extra-long snouts, flattened and strengthened on the end by a cartilage plate, they can root as deep as three feet. They'll devour or destroy a whole field of sorghum, rice, wheat, soybeans, potatoes, melons and other fruits, nuts, grass, and hay. Farmers planting corn have discovered that the hogs go methodically down the rows during the night, extracting seeds one by one.
According to the USDA, this invasive species costs the United States $1.5 billion each year in damages and control costs. As Texas Parks & Wildlife notes, feral hogs compete directly for food with livestock and more desirable wildlife. They damage wildlife habitat, pastures, crops and fields, and watering sites. Their rooting, trampling, and wallowing behavior can destabilize wetlands, springs, creeks, and riparian areas. Additionally, these hogs can destroy forestry plantings and damage trees. Though they are not active predators, according to Texas Parks & Wildlife, feral hogs occasionally prey on fawns, young lambs, and kid goats and feast on the eggs of ground-nesting birds, such as turkey and quail.
TRADITIONAL WILD HOG FENCES ARE INEFFECTIVE
Barbed wire and hinge-joint mesh "field" fences are largely ineffective barriers against feral hogs. Almost any kind of animal, except large livestock, can get through a traditional 5-strand barbed wire fence. Nevertheless, landowners have attempted to enhance this barrier for years by using a 6-strand fence on 6-foot T-posts. Initially, these added measures may be somewhat successful in their ability to deter, but because these fences are made from a weak, low-tensile wire, wear and tear caused by wild hogs, deer, coyotes, and livestock can open breaches and cause the fence to fail over time.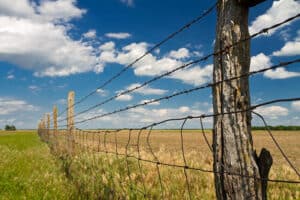 For many decades in some regions of the country, the go-to ranch fence was "field fencing," which is basically a hinge-joint mesh. You have probably seen this type of fencing across rural America and often it is dilapidated and damaged. Field fencing has two main flaws:
The hinge joint will slip and not return to its original shape when livestock, feral hogs and predators press against it. This weakness creates an opportunity for feral hogs who can work minor holes into large openings
The metal used on these older fences was soft and inadequately galvanized, which allows oxidation or rust, that, in turn, reduces the life of the fence and leads to failure over time.
Enough about the problem. Let's talk about the solutions.
WILD HOG FENCE MATERIALS FOR EFFECTIVE CONTROL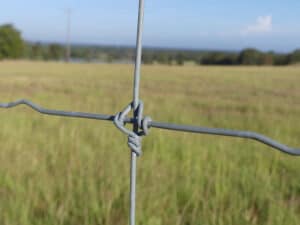 High-tensile, woven-wire steel mesh with a "fixed knot" design is the foundation to the best wild hog fence.
If you are committed to eliminating the wild hog problem on your property, this steel mesh fixed-knot fencing is the best place to start. High-tensile, woven-wire steel mesh with a "fixed knot" fencing is the material of choice for wild hog barriers, preferred over five-strand barbed wire and hinge joint fencing for its strength and safety and most importantly, for its resistance to breech by feral pigs.
The high-tensile, fixed-knot fence is the modern form of the old field fence and consists of interconnected vertical and horizontal wires forming squares or rectangles of overlapping and knotted wires. It differs from field fencing in its strength and available patterns.
PERFORMANCE OF FIXED-KNOT WILD HOG FENCES
When selecting wire mesh for fences, there are 4 things to consider:
Fixed-knot design – Fixed-knot wires are wrapped around the line and stay wires for superior vertical strength, which allows for increased post spacing and excellent resistance to animal impact
High-Tensile Wire – Professional grade 12.5 gauge is 300% stronger than traditional low carbon 12.5 ga field fence, providing a breaking strength of 500 vs 1,380 lbs. per single wire.
Coating Type – Minimum ASTM Class 3 galvanized coating is 3X more galvanization than typical Class 1 product.
Mesh spacing –Fences have maximum 6-inch vertical stay wires with 5-inch max horizontal wires in bottom courses.
Class 3 galvanized, high-tensile wire and fixed-knot fences require very little maintenance, so landowners spend less time worrying about the integrity and durability of the fencing material.
A fixed-knot design combined with high-tensile wire makes this the strongest woven-wire fence available; it is highly resistant to animal damage. In fact, the breaking strength of each individual 12 ga. horizontal wire is around 1,380 lbs.
Crimps manufactured in horizontal wires are installed with significant tension so they can resist force exerted on the fence in a spring-like fashion. Fixed knots do not move or loosen with pressure from animals. Wild hogs can't "wallow" a hole in the fence fabric as they can in traditional low-tensile field fence wire. Additionally, the steel mesh spacing enables the fence to withstand animal stresses without losing shape or strength.
BENEFITS OF HIGH-TENSILE, FIXED-KNOT WILD HOG FENCING
Best Value – Heavy-duty Class 3 galvanized wire contributes to longevity & strength.
A 20-year manufacturer's warranty protects the investment.
Offers the highest strength-to-cost ratio for protection from wild pigs.
Fixed-knot wild hog fences can last 3x longer than traditional low-tensile fencing material.
Vertical stay wires on 6-inch or tighter centers give the fence high resistance to hog penetration.
Fences can be built with up to 20-foot post spacing.
Construction stays tight with less than 1% elongation over the service life of the fence.
Deep crimping creates memory for optimal flexibility to absorb impact and climate change.
Properly installed, the high tensile fencing does not sag like other fence materials.
Fencing is essentially maintenance-free.

COST OF THE BEST WILD HOG FENCE
Building or replacing a ranch fence comes down to value versus cost. High-tensile fixed-knot fences provide significant value, as detailed above. And over the long-term, these superior fencing materials cost a little more to install and maintain than barbed wire fences. The cost to install fixed-knot fencing is virtually the same as barbed wire because of the 20-foot post spacing, which requires fewer intermediate posts. Also, this fence material comes in rolls of 330 feet or more which makes it easier to install long runs versus installing wires individually. After installation, the fixed-knot fence requires little maintenance, which translates into significant savings of time and money. With a service life of more than three times that of typical low-carbon barbed wire and hinge-joint fencing, a high-tensile fixed-knot fence is a no-brainer!
BEST WILD HOG FENCE SPECIFICATION
Woven wire comes in many varieties of heights and wire spacing. For purposes of wild hog exclusion, a standard 48-inch height is more than sufficient. In fact, research studies have proven that fences just 28 to 34 inches tall can prevent wild hog access. The main difference is the amount of spacing between the wires, both vertically and horizontally. For best results, high-tensile, fixed-knot fence mesh with a spacing of 6 inches or less in the vertical stay wires is recommended.  In larger pastures where pressure is lower and economics dictate, a 12-inch vertical spacing wire mesh has been observed to work well over a number of years under constant wild hog pressure. Juvenile piglets can easily run through the mesh, but always end up back on the other side with their mothers. The mesh spacing of 6 inches is sturdier and less susceptible to livestock damage, which makes it a longer-lasting choice for a surprisingly small premium in price. Commercial hunting or breeding operations typically use this kind of high-grade, high-tensile, woven-wire steel mesh, but in an 8' tall version.
The best wild hog fence material has 9 horizontal wires and stands 49 inches tall with a vertical spacing of 6 inches. For high-traffic areas such as corals, turnouts, or birthing pens, we recommend 3-inch vertical spacing for greater strength and security to protect the livestock from hogs and predators. The more tightly spaced fencing also is more durable and resistant to pressure in high-traffic areas.
GATES & WATER GAPS FOR THE BEST WILD HOG FENCE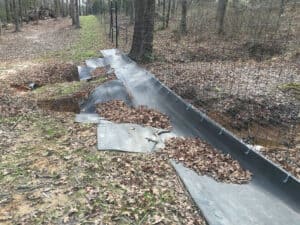 Another critical factor is the proper installation of gates and water gaps to prevent feral hogs and wild boars from getting into more vulnerable places in the fence line. Use of a properly engineered and installed water gap ensures that the wild pigs will not cross in these areas. Gates must be hung and hinged in a way that reduces the gap between the gate and ground to prevent the hogs from entering. A gate skirting material can also be applied for passageways that may have uneven ground or significant slope. The folks at Tejas Ranch & Game Fence use proven methods acquired through years of experience in the business to ensure a good fit and a long-lasting solution to keeping feral hogs off your property in these vulnerable areas.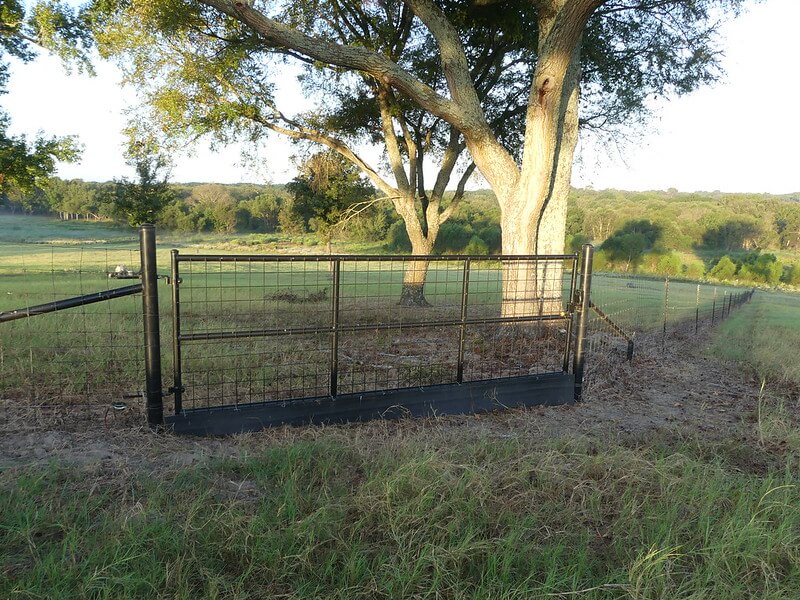 ADDITIONAL OPTIONS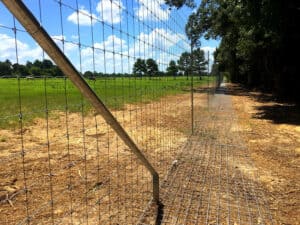 Other features, including predator control barriers, can be added to customize fence solutions for almost any environment or need. Predator control options include a steel mesh apron fence at the base of the fixed-knot fence to eliminate digging, tunneling, and wallowing; or electric wire barriers at the base and/or top of the fence.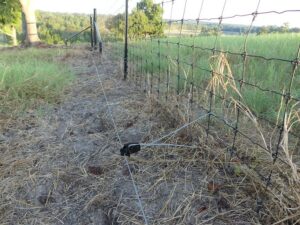 Electrifying an outrigger wire on a high-tensile wire mesh fence is more expensive and requires more maintenance but does provide a belt-and-suspenders approach to exclude feral hogs from your property. An electric fence wire outside of the fence at approximately 6 inches above the ground has been shown to considerably reduce the number of breaches under a fence as well. An electric wire is normally used to prevent coyotes or dogs from digging a hole under the fence but also can be added for feral hog exclusion in high pressure areas. Hogs are smart and electric fencing works by teaching them to associate the fence with a very disagreeable shock. Educated hogs develop a good respect for electric fences.
For the highly corrosive environments, such as coastal areas where salt-laden air rusts fences more quickly, we offer a zinc-aluminum coating that is highly resistant to corrosion. This Class 40 zinc-aluminum coating provides the highest degree of protection available for high-tensile steel mesh.
WHY CHOOSE TEJAS FOR THE BEST WILD HOG FENCING?
The highly skilled team of fencing innovators, designers, and construction professionals at Tejas is dedicated to excellence in every job. They work closely with clients to determine the best design and construction for their unique needs, using only the highest quality fencing materials. Their installation teams are meticulous and accomplished experts in every way. By focusing on careful consultation and design, top quality materials, and uncompromising installation, Tejas strives to exceed clients' high expectations to create sustainable value in all solutions.
Tejas Ranch & Game Fence builds new wild hog fence barriers as well as retrofitting existing fences with high-tensile fixed-knot fencing.
ADDITIONAL FENCING SOLUTIONS
Cattle Fences
Horse Fences
High Game Fence
Water Gap Fence
Custom Ranch Gates
Electric Fence