The lure of low-fence exotics
Have you ever dreamed of sitting on your porch and watching exotic animals from around the world roam your ranch?
Blackbuck, bison, sheep, and a variety of other mammals that require little care are actually well suited for Texas ranches with the proper planning, selection, and fencing. These animals can be contained within 4 ½' low fence of high tensile woven wire steel mesh using the "front pasture" concept developed by Tejas Ranch & Game Fence.
Tejas founder John Payne pioneered the front pasture design for a client whose animals were keeping their distance. Payne fenced 100 acres around the main house, added secure automatic gates, and contained the exotics with enough room to roam in sight of family and friends. Since then, the front pasture concept has become popular on ranches throughout East Texas. It's fantastic to be able to watch the cycle of life unfold, as animals give birth and raise their young in a specially created habitat.
"With the right mix of animals in the right enclosure there's great entertainment value for family and friends visiting the ranch," says Payne. "It's amazing how this concept can add interest and vitality to the ranch experience for folks of all ages. It's like having an aquarium on the land where there's always beauty and interesting activity happening, and with surprisingly little maintenance and care."
First, the right low fence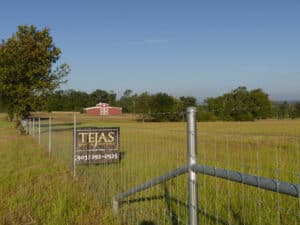 Many landowners assume that they need an 8' high game fence to contain exotics on their property. For certain animals, however, a fence that stands 4 ½' is sufficient. The key is to choose the correct fencing style and materials.
High tensile woven wire steel mesh with a "fixed knot" fencing is the material of choice for exotics, preferred over the common five-strand barb wire for its strength and safety and most importantly, for its resistance to predators. This modern form of the old field fence consists of a series of interconnected vertical and horizontal wires that form squares or rectangles of overlapping and knotted wires. It differs from field fence primarily in its strength, but also in the available patterns.
Woven wire comes in several varieties, but the main difference is the amount of spacing between the wires, both vertically and horizontally. Depending on the purpose, ranchers can select fencing with more or less space between the wires. Woven wire fencing is commonly used with cattle and horses to prevent fence injuries and entanglements and to keep feral hogs from destroying the precious grass in pastures. It is also sturdier and less susceptible to livestock damage, which makes it a longer lasting choice for a surprisingly small premium in price. Commercial hunting or breeding operations typically use this kind of high-grade, high- tensile, woven-wire steel mesh, known in the trade as fixed knot fencing.
Woven-wire, fixed knot basics: coating, knots, and spacing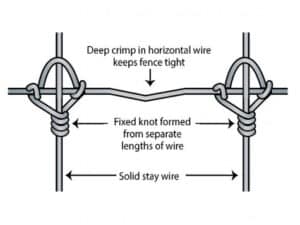 When selecting woven wire fences, there are three things to consider: galvanized coating, fixed knot design, and mesh spacing.
Class 3 galvanized high tensile wire and solid vertical stays require little to no maintenance, so landowners spend less time worrying about the integrity and durability of the fencing material.
A fixed-knot design combined with high tensile wire makes this the strongest woven wire fence available and highly resistant to animal damage. In fact, the breaking strength of each individual horizontal wire is around 1,400 lbs.
The steel mesh spacing enables the fence to withstand stresses without losing shape or strength. The crimps in the horizontal wires are installed with significant tension or pressure so they can withstand force from livestock.
Woven wire is also much more visible than standard, five-strand barbed wire, making it a safer solution in many cases.
Other considerations
Before acquiring exotics for your ranch, it's important to consider how you'll fence your property to ensure that your exotics have access to water, forage, protective vegetation, and supplemental feeding when grass is insufficient or dormant. A professional ranch fence contractor can analyze your property to help identify your particular needs.
Water gaps
Water gaps along fence lines can be tricky. Tejas Ranch & Game Fence has created a proprietary solution, the FloatMaster™ Water Gap, that solves this age-old problem. During high-water events, the FloatMaster™ will allow debris to flow freely below a fence, and during dry seasons it lies flat on the ground to prevent animals from escaping and predators from entering.
Gates
Typical gates constructed for cattle have gaps where the gates attached to the fence posts and between round tubing. Tejas installs gates so as to keep your exotics contained and safe from dogs and predators. Additionally, their exceptional gate latches are both reliable and secure.
As a standard offering, Tejas uses galvanized posts, T-posts, and wire for a uniform appearance and a longer lasting fence. These materials, which enhance your investment, come at a very small premium over ungalvanized fencing.
Feeding and drinking stations
Often overlooked, feeding stations and drinking systems can be critical. Appropriate nutrition is important for any wildlife. Ensuring that your land can support additional grazers takes proper management. Automatic and gravity-fed feeders can be important additions for exotics. Tejas sells a full range of top-quality reliable spin cast and protein feeders. Adding feeding stations along with new wildlife can help ensure the success of your vision.
Texas summers can be brutal on livestock and wildlife. Providing reliable sources of water can reduce stress and ensure better health for your animals. Surface water stock tanks are the easiest hydration solution, but if you have water running to certain pastures, automatic waterers are a simple investment.
Compatibility
Selecting the right low-fence exotics also requires research and careful consideration of habitat, climate, and species compatibility. Some species will hybridize, interbreed, or populate quickly if not kept in check. If you are introducing exotics with your native whitetails, consider that whitetail deer will likely land at the bottom of the pecking order for food if your property is at carrying capacity. Predator control is also a must as coyotes and feral hogs will kill fawns. (Learn about Tejas' predator-proof fencing)
Local agricultural extension agents, wildlife biologists (with exotics expertise), and the Exotic Wildlife Association (EWA) can be excellent resources and can help guide your choices alongside the team at Tejas Ranch & Game Fence. The EWA has published a helpful list of seven tips for landowners considering adding exotics to their property.
Low-fence exotics to consider
Along with its expertise in designing and constructing fences for exotic enclosures, the Tejas team has curated a list of *low-fence exotics suited for woven-wire fenced pastures.
Wrapping up
We've covered a lot of ground. The takeaway: start with the proper low fence. High tensile wire mesh fencing with fixed knots is the best choice to safely contain exotic animals. Adding low fence exotics to your property is very doable with this fence material, water gap solutions, proper gates, and feeding stations.
With the right planning and support, you can look forward to watching from your porch as spectacular exotic animals meander across your land.
For additional information on low-fence exotics, call the professionals at Tejas Ranch & Game Fence.
Would you like more articles about low-fence exotics sent directly to your inbox? Sign up for our newsletter.
*When pressured, most of these animals have the capability to jump any fence. However, given enough room, these animals will not jump a low fence.