Solar farm fencing that's long-lasting, cost-effective, and performance-driven
In a world where fencing might seem dull and unchanging — as compared to the advancements of mobile devices, autonomous cars, and even smart homes — the opposite is true. The new-age fencing solution is high-tensile, fixed-knot fencing, and it offers a modern option for those who need and want a long-lasting, performance-driven, cost-effective fence.
Furthermore, while rich, nostalgic traditions and heritages of agriculture developed a need for quality fencing centuries ago, today it's commonly used for other things, too, such as protecting solar farms. As these solar power plants continue to rise in popularity and demand, more of them will pop up. And these pieces of real estate need the defense that revolutionary, modern fencing can provide. For some, solar panels are good investments, and so is the quality fencing needed to protect them. Those who are searching for a well-designed solar fencing solution should take heed of the following.
Reasons to Fence Your Solar Farms
There are numerous reasons solar farm owners should construct proper fencing around their installments. These are needed to prevent damage to solar panel units, as well as other necessary items and structures on the property. This holds true for residences, businesses, utilities, municipalities, and more.
First, solar farm equipment, and the heavy machinery that comes with it, can be dangerous for people to be around, especially if they're careless. If something happens, you might be labeled negligent. Having a fence in place can help protect you, and even prevent an accident from happening in the first place.
Furthermore, wildlife goes where it wants to. And animals are bound to walk in and around the solar farms. They can damage these panels, and the farm can be dangerous to them, too. A tall fence discourages entry.
And most solar panels are installed in a linked manner, known as an array. If one goes down, it can create a chain reaction, ultimately reducing productivity. Any number of solar panel repairs are extremely expensive. Help reduce these things from happening, and decrease repair costs, by implementing superior fencing technology.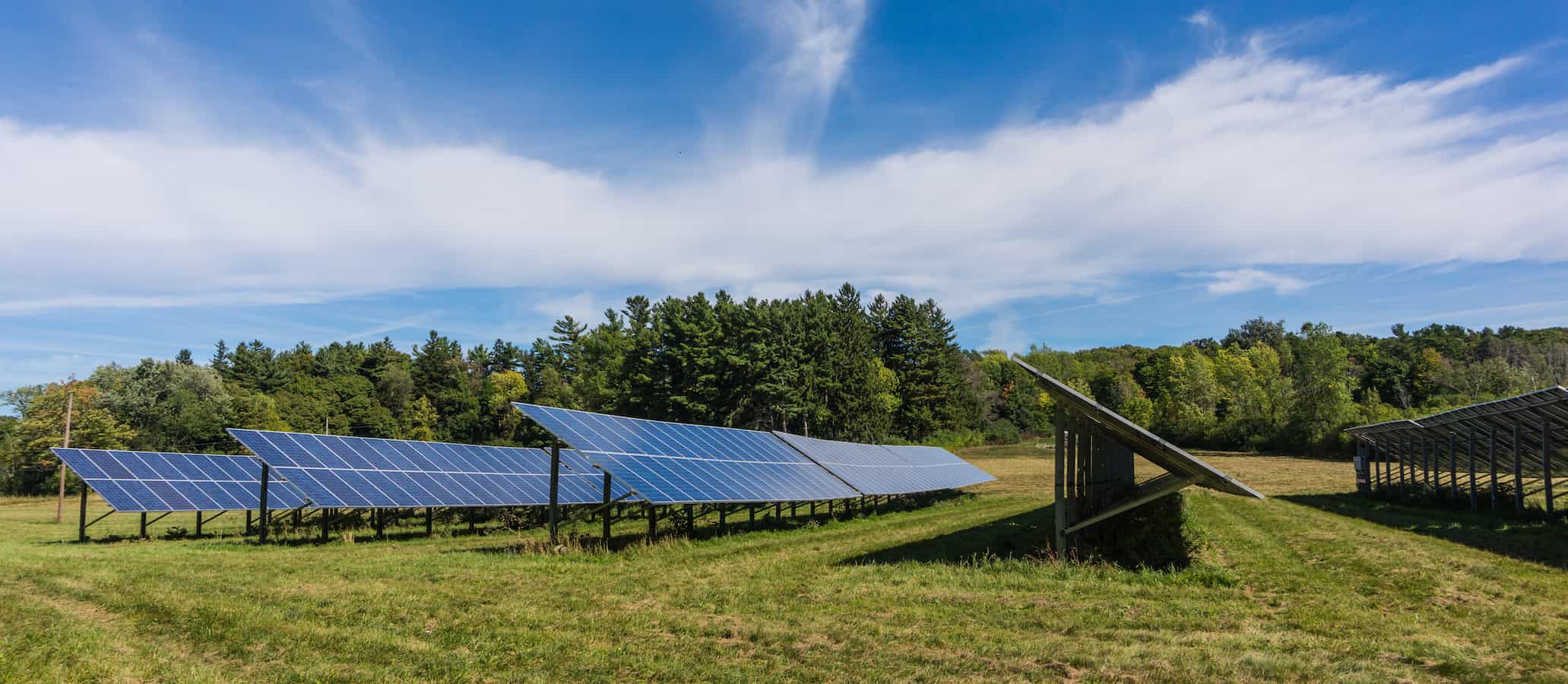 The Right Fence for Solar Farms
Oftentimes, solar panels are surrounded by chain-link fence, but that's not as aesthetic or effective, especially in rural areas. Also, it isn't as effective as high-tensile, fixed-knot fencing material and design.
The right fence should check several boxes, including strength. This option is more resistant to human tampering, livestock impacts, and wildlife pressure. Humans can cut fences. Larger animals can apply hundreds, if not thousands, of pounds of pressure. High-tensile, fixed-knot fencing can take a beating, and is better at staying intact.
Height is an important aspect of selecting the proper fence material, too. "[What's] typical is a 6-feet, high-tensile fence — 1775-6 with barb arms on top and three strands of barbed wire," John Payne, President of Tejas Ranch & Game Fence. "They want to keep humans, hogs and other animals out. The high-tensile is good for the hogs and the barbed wire atop is for two-legged critters."
Spacing is a very important part of choosing the right fence, too. The space between wires should be small enough that it prevents unwanted animals from breaching the fence. That said, it needs to be large enough that smaller animals — such as mice, rabbits, and squirrels — can get out, if they choose. Of course, the 1775-6 is 6 feet tall and set on 6-inch-wide fence mesh pattern spacings (or sections) within the fence. At the bottom, these are 3 inches tall, and gradually increase to 4, 5, 6 and then 7 inches at the top of the fence.
Longevity is another factor. With a class-3 galvanized coating, this fence material is likely to last up to three times longer than class-1 coatings. Add its class-40, zinc-aluminum coating to the mix, and it really resists corrosion, too. Plus, the fixed-knot design absorbs impacts, resists warping, and ultimately outperforms chain-link and hinge-joint mesh options. Deep crimps help it to remain tight, and according to Tejas, stays tight with less than 1% elongation throughout the service life. It shouldn't sag, squash or stretch during that window.
Don't overlook its cost-effectiveness, either. Due to its increased strength, most posts can be spaced 20 feet apart, reducing overall material costs and labor. Furthermore, this type of fencing has a 30-year service life, which also reduces the annual cost per mile of fence. And maintenance is virtually unneeded, which further reduces the overall cost to install it.
All of the perks are great, but for those who like to know, how does high-tensile, fixed-knot fencing work? First it has a solid stay wire. It also incorporates a fixed knot formed from separate lengths of wire. And it has deep crimps in each horizontal wire to keep the fence tight, and even creates memory of a base position for the fence to snap back to after being impacted or stressed.
Finally, other aspects of the fence designing, and installation processes, might be needed, property and location depending. "Special grounding appurtenances come into play," John Payne said. "A safety program [by] the installation team is also important, as well as [the] ability to engineer solutions based on conditions particular to a site or owner requirement."
So, while common threads weave through each fencing job, no two fence installs are the same. Each one requires a slightly different treatment to optimize performance and safety, and that produces an even greater need to consult with the experts. We're there for you from start to finish and beyond.

The Right Team for the Job
Tejas Ranch & Game Fence offers a premiere solar fence installation service. Its skilled experts are fencing innovators and create and install products that get the job done right the first time. Built upon a strong reputation, you know what you're getting. It stands behind its products and services and offers warranties that outperform the market.
At the end of the day, it's about performance and exceeding expectations. Tejas is the industry standard. Both excellence and professionalism are essential to everyday operations. Tejas assures competitive prices, detailed bids, good communication, intuitive designs, quality construction, and more. Even after the fence is installed, Tejas is still there for you.
In reflection, it's important to know why you're installing solar farm fencing and how it should be done. Contact us today for a consultation regarding your property.  Consider Tejas your solar farm fence vendor of choice!