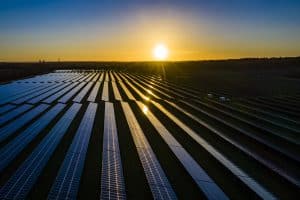 We take pride in not only offering the highest available grade of solar farm fence materials but also in the experience and expertise of our solar farm fence installation.
With Tejas as a professional solar farm fence contractor, you are assured of a finished project that enhances your property through the wide-ranging capabilities of our management and team of highly-skilled solar farm fence installers operating top caliber equipment.
Properties that have or plan to install solar farm fences typically have an investment to protect. Selecting the solar farm fence vendor to design and install your fencing is equally as important.

WHY TEJAS AS YOUR SOLAR FARM FENCE CONTRACTOR:
20-year warranty
The highest standard for solar farm fence materials
Decades of successfully designing and installing fences
Advance engineered solar farm fence support structures.
Process and results-driven projects
Top caliber equipment and machinery to build it right the first time
It's time you stop putting off that project. Request an estimate from Tejas to get started.
"On-time, on budget, and available high fence company. Fence lines as straight as an arrow for mile upon mile. A 9-acre corral system that is truly innovative. One man can work 100s of deer by himself. Absolutely no disappointments. Come see for yourself."
"We have a lot of high fences on our place, but the fence constructed by Tejas Ranch & Game Fence is noticeably different. It's a higher caliber of construction. Even guests driving in make comments about how nice the Tejas fence looks in comparison."