Guide to the best high game fence to protect your trophy whitetail deer and exotic animals
Whether your goal is to keep prized animals within your property or perpetrators and predators out, our high game fence solutions and expertise set the standard for value and durability.
HIGH-TENSILE, FIXED-KNOT FENCE
High-tensile, fixed-knot high game fences are excellent for exotic containment and outperform traditional barbed wire and hinged-knot fences in every application with superior durability, flexibility, and safety. Even more importantly, high-tensile, fixed-knot fences last longer than other types of fencing, which translates into a superior game management tool that saves landowners time and money spent on maintenance, repairs, and replacement. With a wide range of height and mesh pattern options, fixed-knot mesh fencing is versatile and customizable to fit the individual needs of the rancher. And with the benefits of higher performance and excellent longevity, the net cost per year to install this fence makes it the best value.
Let's dive a little deeper and discuss high-tensile, fixed-knot materials, performance, benefits, costs, specifications, and additional options.
THE BEST HIGH-GAME FENCE MATERIAL
If you desire to hold trophy whitetails or exotics on your property with no fence maintenance, this fencing is the best place to start. High-tensile, woven-wire steel mesh with a "fixed knot" is the material of choice, preferred for its strength, safety, and resistance to breech.
The high-tensile, fixed-knot fence is the next-generation form of the old field fence and consists of a series of interconnected vertical and horizontal wires that form squares and rectangles of overlapping and knotted wires. It differs from field fencing in its strength, longevity, performance, and available patterns.
PERFORMANCE OF HIGH-TENSILE, FIXED-KNOT FENCES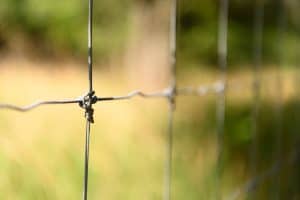 When selecting high-tensile, fixed-knot wire mesh for high game fences, the five factors that make a performance difference are:
Fixed-Knot Design – Fixed-knot wires are wrapped around the line and stay wires for superior vertical strength, which allows for increased post spacing and excellent resistance to animal impact. The fixed-knot union holds tight under pressure, resists movement, keeps its form, and maintains its ability to do its job.
High-Tensile Wire – Professional grade 12.5 gauge high-tensile wire is 175% or 2.75 times stronger than traditional low carbon 12.5 gauge field fence, providing a breaking strength of 1,380 lbs. vs 500 lbs. per single wire.
Coating Type – Minimum ASTM Class 3 galvanized coating is 3 times more galvanization than the typical Class 1 product used on field fence. Using fixed-knot mesh for high game fences creates a much longer lasting fence that performs for up to 3 times as long. For coastal or more corrosive environments, these fence meshes are available with a Class 40 Zinc-Aluminum coating. This zinc-aluminum coating is the highest degree of protection available for high-tensile steel mesh.
V-Crimps – Deep crimps manufactured in the horizontal wires are installed with significant tension so they can resist forces exerted on the fence in a spring-like fashion.
Mesh Spacing – Fixed-knot, high-tensile mesh designs are available in a 3 to 12 inch vertical stay wire spacing with 3 inch minimum and 5 inch maximum horizontal wires in the two bottom courses.
BENEFITS OF HIGH-TENSILE, FIXED-KNOT GAME FENCING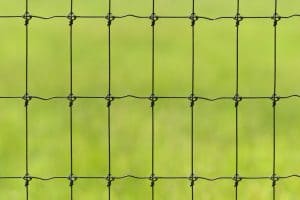 Best Value – heavy-duty, Class 3 galvanized wire contributes to longevity & durability.
A 20-year manufacturer's warranty protects the investment.
Fixed-knot high game fences can last 3 times longer than traditional low-tensile fencing material.
This type of fencing offers the highest strength-to-cost ratio.
Vertical stay wires on 6-inch or tighter centers give the fence high resistance to penetration.
Posts can be spaced up to 20 feet apart for greater economy while still retaining strength.
Construction stays tight with less than 1% elongation over the service life of the fence.
Deep crimping creates memory for optimal flexibility to absorb impact and climate change.
Properly installed, the high-tensile fencing will not sag over time.
High-tensile, fixed-knot high game fencing is essentially maintenance-free, so landowners spend less time worrying about the integrity and durability of the fence.
COST OF HIGH FENCE
Selection of the best game fence for trophy whitetails and exotics on a ranch often comes down to a value equation. High-tensile, fixed-knot Class 3 fences provide significant value, as detailed above. And over the long term, these superior fencing materials cost significantly less to install and maintain than Class 1 barbed wire fences or hinged joint field fences. The initial cost to install fixed-knot fencing is virtually the same as barbed wire because of the 20-foot post spacing, which requires fewer intermediate posts. Also, this fence material comes in rolls of 330 feet or more which makes it easier to install long runs versus installing wires individually. After installation, the fixed-knot fence requires little maintenance, which translates into significant savings of time and money. With a service life of 2-3 times that of a typical field fence, the high-tensile, fixed-knot fence is a no-brainer!
For a full breakdown of high game fence cost, review this article.
FENCE PATTERN SPECIFICATIONS

Fixed-knot wire comes in many varieties of heights and wire spacing. For purposes of holding exotics, a standard 8-foot height is sufficient. The main choice to consider is the spacing between the wires, both vertically and horizontally. For best results, high-tensile, fixed-knot fence mesh with a spacing of 6 inches or less in the vertical stay wires is recommended. The mesh spacing of 6 inches is sturdier and less susceptible to damage, making it a longer-lasting choice for a surprisingly small premium in price.
The best high game fence material has 9 horizontal wires and stands 96 inches tall with a vertical spacing of 6 inches. For high-traffic areas using a 3-inch vertical spacing provides greater strength and security to protect your exotics from hogs and predators. The more tightly spaced fencing also is more durable and resistant to pressure in high-traffic areas.
GATES & WATER GAPS FOR HIGH FENCES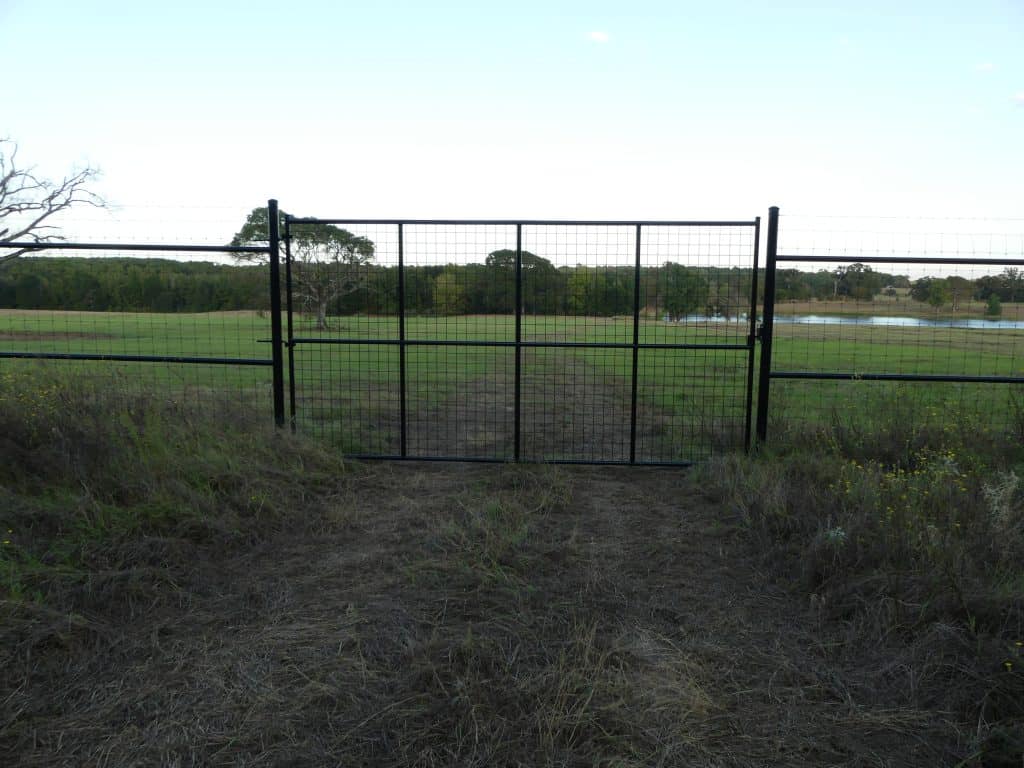 Critical to the performance of any fence system is the proper design and installation of gates and water gaps. There are many factors that must be taken into account to ensure the proper installation of gates and water gaps, as these are the two most important links in the chain of security provided by the fence system. They are also the most technical and require planning, design, and execution in a way that provides maximum functionality, performance, value, and ease of use by the property owner.
Considerations for gates are soil type, anchoring system, and stabilization to ensure long-term performance, swing direction, ground elevations, latch system, automation options, ground clearance, maximum open space to match containment or protection criteria, materials, durability, aesthetics, and budget for a net value equation that works for the project goals.
Considerations for water gaps are watershed analysis, flow rates, debris potential, length and height, maximum flow depth, historical flow data, protection and containment criteria, accessibility, protection criteria, durability, ease of maintenance, ability to conform to changes in the creek or watershed bottom over time, proper fitment, support structural integrity, longevity, and budget for an optimal solution.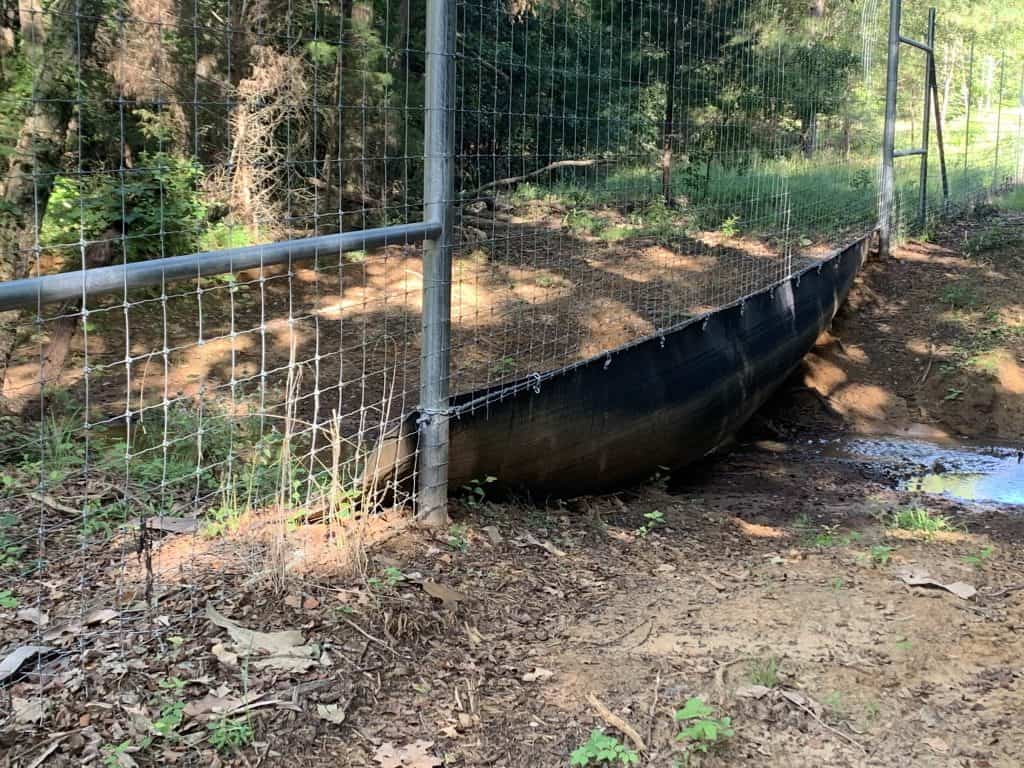 The functionality of these components of a high game fence is vital to the long-term performance of the fence which keeps operating costs low over time and reduces the net cost of the investment. It's the "Done Right the First Time" philosophy that typically costs a little more upfront to save countless dollars and headaches in the future and takes the concerns of fencing out of the equation for more time spent on enjoying your exotic game.
The folks at Tejas Ranch & Game Fence use proven methods acquired through years of experience in the business to ensure a good fit and a long-lasting solution with the pride and workmanship that guarantees top performance in the ranch fence world.
SUPPORT POSTS AND CORNERS
Having been around farms and ranches, you have seen all types of fence support systems, also known as bracing. From railroad ties and cedar posts to trees and rock piles. A good rule of thumb to remember in choosing materials and quality installation of your next high game fence is that the structural support system sets the foundation for a reliable herd management tool for many decades to come.
Fence Brace Material
The most reliable fence bracing materials for farms and ranches are made from galvanized pipe. This material is an ideal match of strength, long service life due to its corrosion protective layer, and cost which is relatively low considering the near maintenance-free 25+ year service life. This post material is used to build an H-brace's corners, pull posts, and line posts which are the true structure of the fence system that holds the tension of the high-tensile, fixed-knot wire mesh fence to maintain its integrity to perform as a reliable barrier.
Structural Brace Construction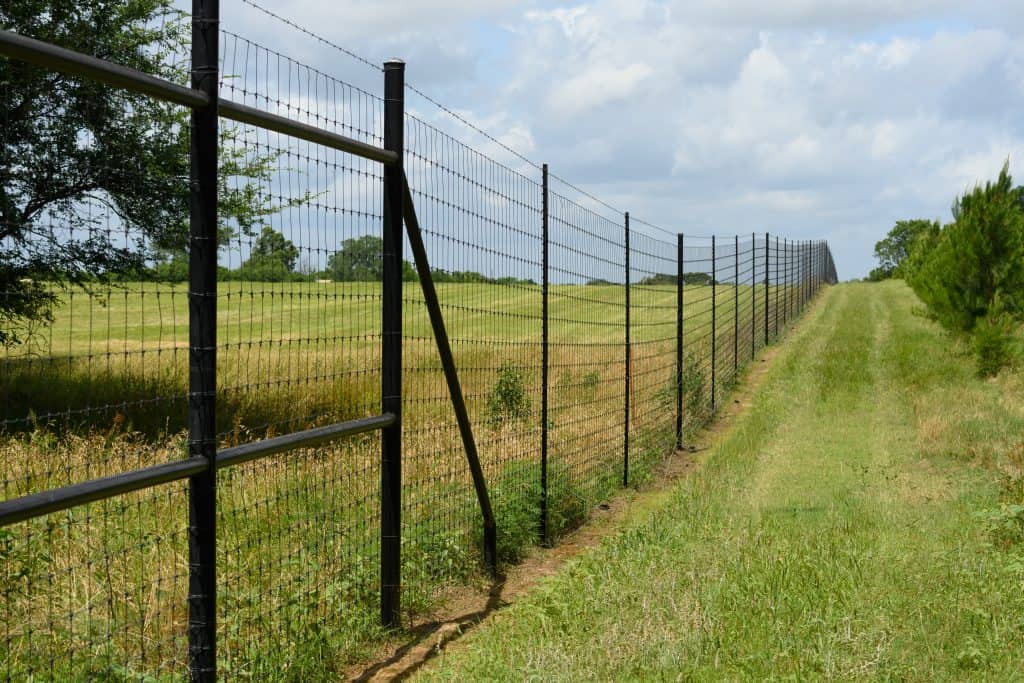 The fundamental bracing method of having a structural anchor at each terminal and turn point on a fence has been around for decades, but it has been perfected by quality ranch fence contractors. On a typical H-brace or corner brace, a 3" galvanized post is driven a minimum of 5.5 to 7 feet into the ground, depending on the soil type and density. It is important to drive the tension-bearing post down to gain ultimate resistance from the soil. Soil types and compaction rates vary, and corresponding construction methods must, too. Using rule-of-thumb engineering and years of experience, the professionals at Tejas are adept at setting these critical anchor points to perform for the life of the fence, guaranteed.
Once the posts are set, horizontal cross members made of galvanized pipe are welded between the vertical posts. A diagonal kicker brace is attached to the structure and then to a deadman for maximum strength. The welding of the pipe should be a complete 360 degrees and, when done right, has full penetration of the base metals to create the rigidity to support the 2-3,000 pound tension of the high-tensile, fixed-knot fence without moving for the life of the fence.
This construction practice provides a heavy-duty anchoring point for all the tension that will be applied to your high game fence over the years.
Fence Fabric Support Posts
With a fixed-knot wire mesh fence, we recommend T-post spacing on 20-foot centers. This distance can be slightly more or less depending on a number of variables, including topography, animal traffic, and soil types. The rigidity and vertical stays of a fixed-knot fence allow it to perform extremely well with nominal 20-foot post spacings. The savings of 20-foot intervals offsets the increased cost of the high-tensile wire and results in a much stronger and longer-lasting product. In high pressure areas or with exotics that put more pressure on a fence, T-posts and Line Posts can be spaced on tighter intervals.
Additional fence wire support is added through the use of line posts which are single pieces of pipe driven into the ground along the fence line at 100' to 120' intervals and take the place of T-posts at those locations. The primary purpose of these line posts is to give the fence fabric good lateral stability on long runs between the primary bracing structure.
ADDITIONAL OPTIONS
Depending on the project goals, other features may be required and can be added to customize fence solutions for almost any environment or need.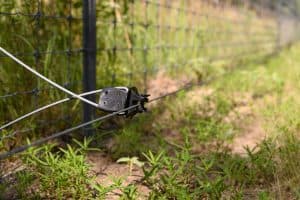 Predator-Control Barriers
Predator-control options consist of a steel mesh apron fence at the base of the fixed-knot fence to eliminate digging, tunneling, and wallowing; or electric wire barriers at the base and/or center and top of the fence.
Barbed wire can be placed at the top of the fence to deter climbing and jumping.
Electric Fences
An electric fence wire outside of the fence at approximately 6 inches above the ground has been shown to considerably reduce the number of breaches under a fence. An electric wire is normally used to prevent coyotes or dogs from digging a hole under the fence.
Zinc-Aluminum Coating
For highly corrosive environments, such as coastal areas where salt-laden air rusts fences more quickly, we offer a zinc-aluminum coating that is highly resistant to corrosion. This Class 40 zinc-aluminum coating provides the highest degree of protection available for high-tensile steel mesh.
Black Powder Coating
For a fence that blends in with the environment and does not reflect the light like the traditional galvanized pipe, a black powder coating can be added to the fence materials during production to create a desired finish with long-lasting durability.
WHY CHOOSE TEJAS?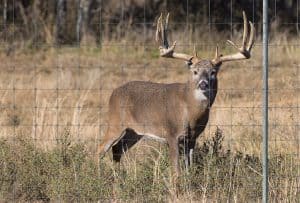 The highly skilled team of fencing innovators, designers, and construction professionals at Tejas are dedicated to excellence in every job. They work closely with clients to determine the best design and construction for their unique needs, using only the highest quality fencing materials. Their installation teams are meticulous and accomplished experts in every way. By focusing on careful consultation and design, top-quality materials, and uncompromising installation methods, Tejas strives to exceed clients' high expectations to create sustainable value in all solutions. Choose Tejas for the best high game fence for trophy whitetails and exotics on your property.