"How much does a high game fence cost?" is often asked and rarely answered accurately. Because there are many things to consider when pricing a high fence project, landowners need to be aware of the variables that affect the high fence cost equation. This article discusses such variables, including land characteristics, material, water gaps, gates, cattle guards, predator wire option, and site block option. Ultimately we'll get down to the numbers so you can begin to budget for your new high fence project.
Land Characteristics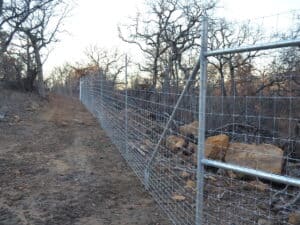 Every property is unique and has its own set of distinct characteristics. Because of this, every fence project is different. No two are alike. Terrain, topography, surface water, soil type, presence of rock, and geographic location, are all land variables that affect the price equation. In most cases, the unique characteristics of a property that make it desirable to an owner are the same characteristics that affect installation efficiency and rate of completion.
For example, varied terrain with steep grades and rocky soil often require specialized equipment to set posts and t-posts. Surface water, too, while land's greatest asset, requires special water gap fencing material. The geographic location of the fence enters the cost equation for apparent reason. Properties that are easily accessible with established internal road systems to access the site create efficiencies for material distribution and cost less. On the contrary, remote locations that lack internal roads require more manpower and more equipment, thus increasing costs.
In summary, the additional time and specialized equipment required to work through waterways, maneuver amongst steep terrain, drill through rocky soils, and access remote locations substantially reduce installation efficiency, increasing cost.
Preparation Variables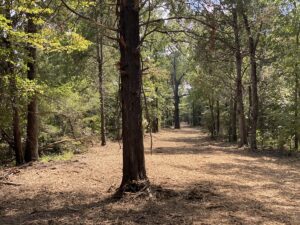 Pre-install services such as land clearing can add to the high fence cost equation and are typically required on new fence projects. A properly cleared fence path produces, in essence, the foundation for the new game fence. As one can appreciate, the bottom of the fence follows the ground contour, and the top of the fence mirrors the bottom. Although adding to the price tag, this step produces smooth transitions for the best final product result. Furthermore, these rights-of-way (ROW) clearings are also used to transport materials, equipment, and personnel during the installation process and allow room to lay down and stretch the high tensile mesh wire fence, and eventually become trails for owners to maintain the fence and view the property.
Old fence removal is another pre-install service that affects cost. Additional manual labor is required in scenarios where an old fence must be deconstructed, sometimes even pulling it from embedded trees and other vegetative growth. This process, while time-consuming, can yield a clean result for the new high fence. To combat this expense, an alternative to fence removal, which many property owners opt for, is to leave the old fence in place. A new fence can be installed parallel to the old fence, and most often, volunteer vegetative growth will fill the gap providing a "green screen," which can serve as an excellent visual barrier for the property.
High Fence Material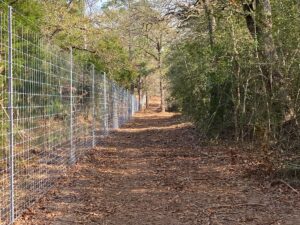 Choosing high-quality material and the most professional contractor are the MOST IMPORTANT steps to ensure project success. There is one high fence material that reigns supreme and is the proven value winner: High tensile fixed knot mesh with a class 3 galvanized or a zinc-aluminum coating, along with heavyweight commercial galvanized t-posts, galvanized pipe, and galvanized pipe gates (with galvanized hinges, latch, and welded wire mesh). Galvanized parts add marginal cost but last significantly longer, creating a better investment for the owner. It is important to emphasize that components should be homogenous throughout to accomplish the highest longevity. For example, if the wire mesh is zinc-coated and the posts are not, the zinc on the wire mesh will sacrificially be transferred to the post, leaving the critical point (where the wire ties to the post) vulnerable to corrosion shortening the life of the fence system.
Additionally, a homogenous aesthetic is achieved if all components are galvanized. And ultimately, landowners desire a good-looking fence too! To sum it up, the material is not the place to cut corners. High-quality material slightly increases high fence costs while vastly improving longevity, aesthetics, and value.

| | |
| --- | --- |
| ​ | Download our latest ebook, The Best High Game Fence for Whitetails & Exotics! |
Water Gaps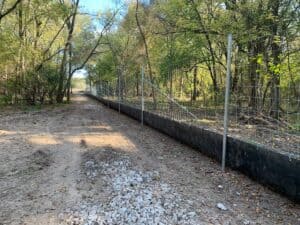 The number of waterways crossing the fence line will increase the high fence cost equation. Simply stated, high fences keep animals from passing from the inside out and the outside in. How can this barrier be achieved when creeks, rivers, and other water features cross the fence line? A water gap fence system is the answer. When water levels are low, properly designed water gap fences will "close the gap" and keep animals from passing through the waterway. When water levels are high, the water gap fence will "rise up," allowing flowing debris such as sticks, limbs, leaves, grass, and other vegetation to pass through. If debris is unable to pass, it gets caught in the wire mesh of the fence material and creates conditions that can lead to fence failure.
We've all been there; a good rain comes, and you're checking water gaps at the earliest opportunity. If you are lucky, you don't have any cleaning out to do. But cleaning out water gaps often turns into hours and sometimes days. Tejas has devised the most advanced water gap system that works when it rains, when it is dry, and most importantly when debris such as logs need to pass through. Unlike heavy metal fence structures suspended on hinges, Tejas' Floatmaster water gap system employs rubber mats that rise and float when it rains, allowing logs and other debris to pass under the fence without pressure on the structure. And when it is dry, the rubber mats are pliable enough to contour to the ground and seal the gap from the animal breech. Easy to maintain, the Floatmaster water gap system continues the integrity and protection of a high fence enclosure over waterways and is crucial to project success.
Gates for High Fence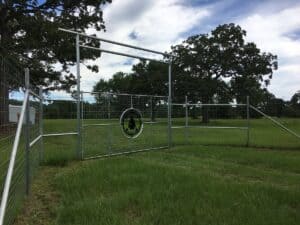 Gates add to the high fence cost equation. However, gates are necessary to maintain the protection of the fence line and allow passage by people, vehicles, and equipment. Gates can also be essential at points where utilities such as pipelines or overhead transmission lines intersect the game fence and need to be accessed.
High fence gates are typically constructed from round tubular steel frames. Gates built for strength and longevity use welded construction. It is imperative to utilize an infill mesh that maintains the integrity of the protection of the fence system. Gate finishes are either galvanized, powder-coated or powder coat over galvanization for a duplex finish known to be one of the best and long-lasting finishes commercially available for high game fence gates.
Customizable entry gates and accessories (automatic gates, solar with battery, power, keypad entry, vehicle sensors, etc.) are also an option with costs. Many property owners opt to enhance their primary entry point in decorative ways that express their taste and essence of the ranch. Upon entering the property, an overhead gate structure customized with metal artwork, ranch name, or other design features is an excellent opportunity to create a distinct first impression. Beyond aesthetics, the overhead support structures used on ranch gates also hold the hinge post and latch post in place. These overhead structures ensure long-lasting proper gate operation when constructed with steel parts.
The quantity and type of ranch gates and accessories needed will influence the price of a high fence project.
Cattle Guards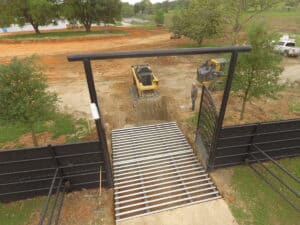 Cattle Guards prevent animals from crossing. Some ranches use them to prevent cattle from crossing, while others depend on them to avert wildlife crossings, including deer and exotic animals. When used in a high fence system, cattle guards add an extra level of protection if a gate is left open, fails, or is damaged by a vehicle or piece of equipment passing through it.
Quality cattle guards are designed and constructed so that heavy traffic such as concrete trucks and semi-trucks hauling heavy loads can pass without damage to the cattle guard. I-Beam makes an excellent structural member for the base of the cattle guard as they are solid and easy to work with in terms of fabrication.
Round pipe such as 2 7/8″ galvanized steel pipe is often used on top of the I-Beam to form the top layer of the cattle guard. The construction of the cattle guard makes cattle and other animals apprehensive; it is designed to create unsure footing and an issue with depth perception that causes wildlife or cattle to avoid crossing it. Still, some animals are known to either jump or walk across the cattle guard. In the case of wildlife jumping, an additional cattle guard can be installed to increase the distance from a standard 8′ to 16′, further discouraging an animal from jumping.
The quantity and size of cattle guards needed is another variable that will affect high fence costs.
Predator Wire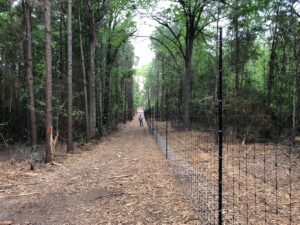 Predators such as coyotes can create significant problems for ranch owners raising various game animals. Predators most often prey on the most vulnerable, newborn offspring. Installing a deterrent such as a predator apron or an electric wire or wires is an option that will enhance the protectiveness of the game fence.
Sight Block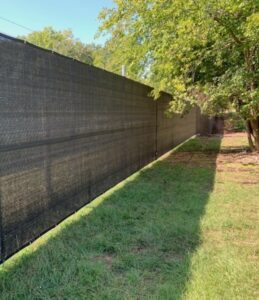 Another optional feature ranch fence contractors can add to the high game fence is a synthetic mesh material used as a windscreen and sight block. This material typically has a screening value of 85%. The benefits of adding this are to obscure sightlines from the property's exterior, thereby concealing valuable wildlife and improving the privacy of a property.
Sight block material can also obscure an undesirable view outside the fence, such as a neighbor's trash pile. This material also forms an excellent wind block, which can help protect animals against cold northern winds. Since the fabric blocks wind, it is necessary to strengthen the fence structure by adding more tubular steel posts in place of t-posts to help prevent wind damage.
High Game Fence Pricing
Quantity & Economies of Scale
As in most production environments, economies of scale come into installing a game fence. Economies of scale begin at approximately 2 miles of game fence installation. Higher volumes allow for efficiencies, dilute fixed costs, and allow installation crews to install a higher quantity of fencing per day.
To build a high deer fence right simply requires the right equipment for land clearing, specialty equipment to set support posts at 5-6 feet depth, tensioners to set tight wires, welding machines, and most of all, an experienced high fence contractor. Do-it-yourself or low-cost contractors simply put your fence and wildlife investments at risk for many years to come and in the long term, cost more.
So, how much does a high game fence cost?
Typical High Fence per Mile Cost
minimum 2+ Miles
In general, many people unfamiliar with high fences expect it would cost 2-3X of an equivalent low fence, which would nominally be 4′ high. The typical game fence, which is 8′ high, would seem plausible to double the cost. However, typically, a high game fence is only 25-30% more than an equivalent low fence, for example, a cattle or goat fence made from high tensile wire mesh.
Your property is unique, and there is no one-size-fits-all solution and a corresponding cost. To answer the question, "How much does a high fence cost?" one can see that many independent variables influence the final price. In ballpark figures, on 2+ miles of game fence in a base cost, excluding gates, water gaps, rock drilling, and a host of other potential variables, is $5-$6 per linear foot or roughly $35,000 per mile. With an average set of variables included, that cost rises to $40,000-$45,000 / mile as of (March 2022).
High Fence Cost
$ 40K-50K
High Fence – $/Mile
$ 6.00-$7.00
High Fence – $/Linear Foot – without water gaps, gates, rock drilling, or any extras
$ 7.15
FM Water Gap – $/Square Foot
$ 1.20
Predator Wire – $/Linear Foot
$ 11.35
Sight Block -$/Linear Foot
Request Estimate
To accurately estimate a cost for your property, request an estimate through our website or call/text (903) 292-0525. The experienced estimators at Tejas Ranch & Game Fence, utilizing sophisticated mapping software and specially designed high fence installation calculators, can give you an estimate on a particular property.